Dress 5219RT569 Claret Red
Product Detail
Kolu Bağlamalı Elbise Bordo Özellikleri
Kumaş Özelliği :
Kumlu krep kumaştan imal edilmiştir.Dört mevsim kullanılabilir kumaştır.
Ürün Özelliği :
Yeni sezon tesettür moda ürünüdür. (Astarsızdır.)Yarım hakim yakadır.Sırttan kullanılabilir bir düğmesi bulunmaktadır.Manşeti bağcıklıdır.Aksesuarlar ürüne dahil değildir.Ürün renginde konsept çekimlerinden dolayı ton farklılığı olabilir.
Yıkama :
30 derecede sıktırmadan yıkanabilir.
Modelin ölçüleri; Boy: 160 cm, Göğüs: 82 cm, Bel: 68 cm, Basen: 95 cm, Kilo: 52 kg.
(Modelin üzerindeki ürün 36 bedendir.)
ELBİSE BEDEN ÖLÇÜLERİ (CM)
| | | |
| --- | --- | --- |
| BEDEN | GÖĞÜS | BOY |
| S | 98 | 128 |
| M | 102 | 128 |
| L | 106 | 128 |
| XL | 110 | 128 |
| XXL | 114 | 128 |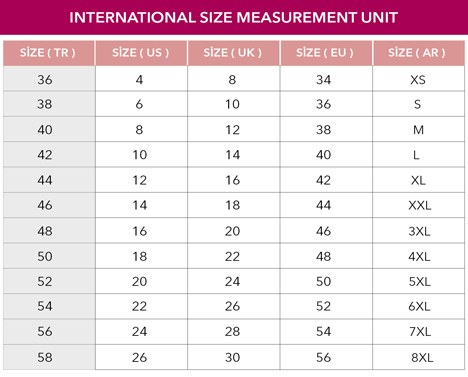 Washing Instructions
Return And Delivery
Return Process


We do not have exchange option for international orders; however, you can return.
The return item(s) must be unused and undamaged. For accessorised and combine products, you have to return all the pieces. We do not accept the returns of underwear, shawl and swimwear because of the hygiene reasons. You have to return the item(s) within 15 days from delivery. You can send your items by filling the return form, which is translated into Turkish, English and Arabic. You have to return it with either DHL or UPS. The packages which are not sent by UPS or DHL cannot be tracked and may return to you. Do not forget to note your return tracking number, we may demand it when necessary. All shipping prices and customs fee of return belong to the customer.
After the return package arrives to us, the refund is made in 3-7 days. We cannot refund unless the package arrives to us. Refund is made to the account that you have ordered. Refund is made by excluding the shipping price and customs fee of return.
You can contact us through mail or phone number 0212 550 5252.
For English : infoen@modaselvim.com

For Arabic : infoar@modaselvim.com

We do not accept the damaged (by the customer), used products. We do not accept the returns exceeded the 15 days deadline. In this case, the package will return to you and you will
Dowload Return Product Form
Click
Dowload Arabic Return Product Form
Click